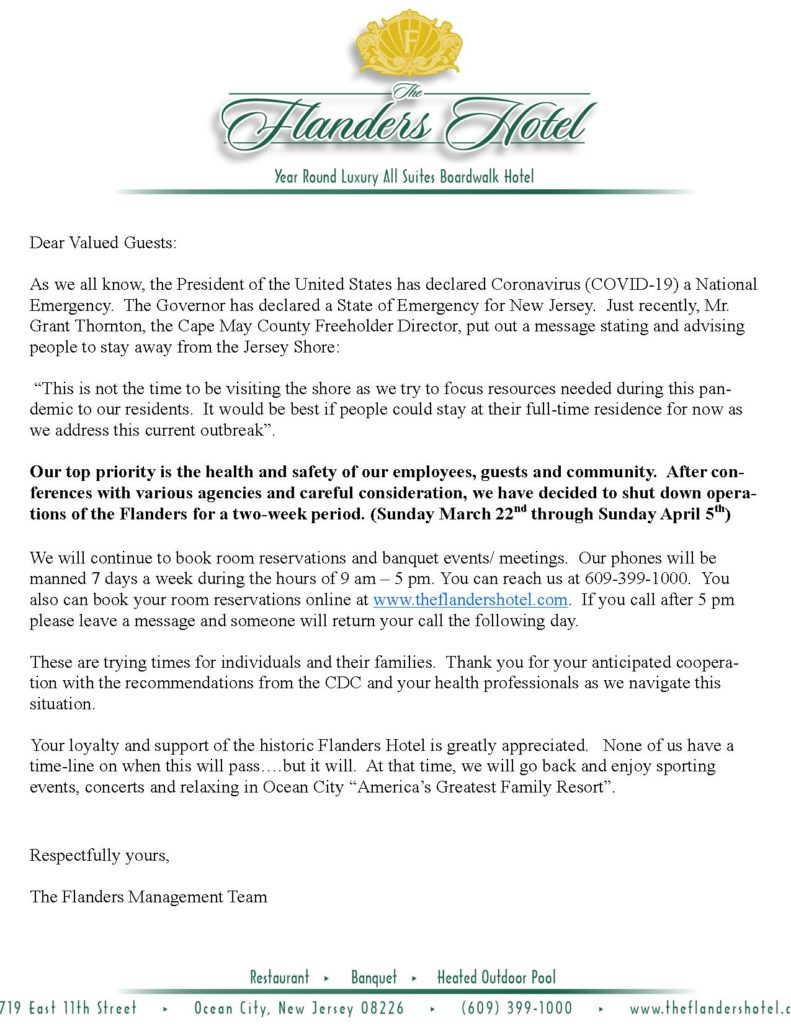 Previous
Next
The Historic Flanders Hotel Banquet and Conference Center
The Flanders Hotel, Ocean City's most historic and prestigious boardwalk hotel, known as "The Jewel of the Southern Shore", was built in 1923. This service-oriented hotel, which was placed on the Nation Register of Historic Places in 2009, will be celebrating its 100th anniversary in 2023. The Flanders combines the elegance and hospitality of yesteryear with modern amenities to offer the finest in luxury accommodations. All suites have private bedrooms and full kitchens, equipped with refrigerators, dishwashers, microwaves, coffee makers and stove tops, along with irons and ironing boards.
Located on the Ocean City Boardwalk, our full-service hotel is a seaside destination that provides the following amenities:
Spacious Banquet and Meeting Space
Emily's Ocean Room (featuring family friendly dining)
The Shoppes at The Flanders (featuring clothing, jewelry, accessories)
Divine Images Salon & Spa
Drip N Scoop (coffee and ice cream)
Outdoor heated pool (largest in Ocean City)
Fitness Center
24-hour business center
Ocean City, known as America's Greatest Family Resort, is one of the best beach towns in South Jersey. The Flanders, with its premier accommodations and prime location, is a landmark known throughout the region, station and nation. Vacationers have marveled at the towering structure as one of the great hotels along the Jersey Shore while local residents and business owners are reminded of the glory and memories provided by the resort. Because of its status as the grandest of Ocean City hotels, the community is fortunate that this architectural gem has survived to the present and continues to remain an important part of Ocean City's past and future.
Celebrate With Us
The Flanders Hotel offers one of New Jersey's most historic and elegant seaside meeting and celebration venues. The ornate sophistication of our meeting space and ballrooms is reminiscent of the grandeur of the early 1900's with all of the modern amenities of the present.
Family-Friendly Dining
Emily's Restaurant is located in the hotel lobby, offering breakfast and lunch year round and dinners in season. Our family friendly menu is prepared with the freshest ingredients. Try our mouth watering steaks, fresh seafood and house baked quiche dishes. Private parties are welcome.
---